TRADE, WAREHOUSE, AND CRM SYSTEMS IN THE CLOUD
Everything you need in one system: sales, purchases, warehouse, Finance, customers and suppliers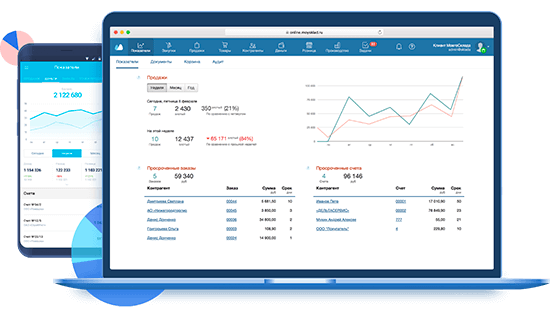 All trade management features
Commodity accounting system
Warehouse accounting — all operations. Managing products and prices at retail outlets. Purchase planning. Under the provisions of the order. Modifications. Inventories. Cells. Barcodes. Kits. Serial number.
Online ticket offices and 54-ФЗ
Cashier's workplace for any computer or smartphone. Quick start. Full support for 54-FZ - connection of АТОЛ, BAR-M, Viki Print. Acquiring. Integration with smart terminals Motor and others. Offline mode.
Document printing
Labels and price tags. Invoices, receipts, invoices, invoices, acts, invoices, cash orders, and others. Custom templates. Auto-numbering, mass printing, archive, import / export to ЭДО systems.
CRM for trading
Promotions, discounts, loyalty cards. Bonus program. Client card: contacts, documents, history. Statistics: sales, returns, average check, profit. Segmentation. The sales funnel. Telephony and mailing lists.