TRADE, WAREHOUSE, AND CRM SYSTEMS IN THE CLOUD
Everything you need in one system: sales, purchases, warehouse, Finance, customers and suppliers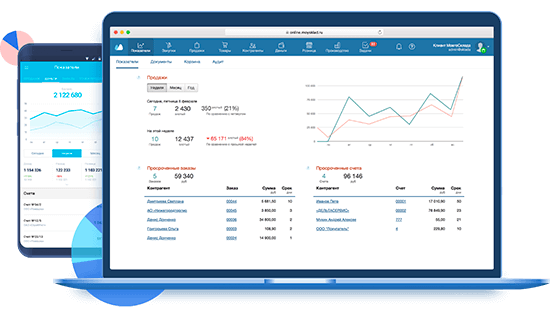 All trade management features
Commodity accounting system
Warehouse accounting — all operations. Managing products and prices at retail outlets. Purchase planning. Under the provisions of the order. Modifications. Inventories. Cells. Barcodes. Kits. Serial number.
Online ticket offices and 54-ФЗ
Cashier's workplace for any computer or smartphone. Quick start. Full support for 54-FZ - connection of АТОЛ, BAR-M, Viki Print. Acquiring. Integration with smart terminals Motor and others. Offline mode.
Document printing
Labels and price tags. Invoices, receipts, invoices, invoices, acts, invoices, cash orders, and others. Custom templates. Auto-numbering, mass printing, archive, import / export to ЭДО systems.
CRM for trading
Promotions, discounts, loyalty cards. Bonus program. Client card: contacts, documents, history. Statistics: sales, returns, average check, profit. Segmentation. The sales funnel. Telephony and mailing lists.
Marking
Support for mandatory labeling: free on all tariffs. Retail sales of branded products. Order / write-off codes, input / output of goods from circulation. Shipments. Re-marking. Round-the-clock support.
Integration
More than 100 ready-made integrations: CMS, CRM, mailing lists, Analytics, banks, delivery services, telephony, trading platforms and other services for business. Export to 1C: Accounting. Help with the settings.
WORKPLACE OF THE SELLER-CASHIER
Convenient and simple interface: nothing extra. Mobile cash register for iPhone and Android - you can connect a fiscal Registrar. Registration of sales, calculation of delivery, working with refunds, deposits and payments. Opening and closing a shift. Sale of kits. Mixed payment: cash + card. Connection of commercial equipment. Printing cash and product receipts and much more.
COMMODITY ACCOUNTING SYSTEM
Manage any number of outlets. Control over the amount of revenue handed over, sales statistics in the context of retail outlets. Analytical reports and working with the assortment. Price management. Inventories. Commission trade. All features of warehouse accounting. Import price lists and vendor invoices from Excel.
COMPATIBLE HARDWARE AND PRINTING
Support for barcode scanners, printing and generation: EAN-8, EAN-13, Code128, etc. Connecting a fiscal Registrar or receipt printer: АТОЛ, BAR-M, Pyrite. Including support for the latest models with support for the new requirements of 54-ФЗ. Printing cash and commodity receipts. Printing a set of documents. Labels and price tags-mass printing, customizable templates.
DOCUMENT PRINTING
Invoices, receipts, invoices, ТОРГ-12, ТТН, acts, invoices, cash orders, reports of the Commission agent, and many others. Printing a set of documents: invoice, invoice, invoice. Automatic numbering, mass printing, document archive, e-mail sending. Custom document templates.
MORE than 1 500 000 COMPANIES have ALREADY CONNECTED THEIR EMPLOYEES TO the SYSTEM Moysklad
ALL YOUR EMPLOYEES ARE UNDER CONTROL
All sales channels, retail outlets, warehouses and offices in one system
ONLINE MONITORING
Follow the dynamics of revenue at retail outlets, product balances at a remote warehouse, and other indicators in real time.
MULTI-CHANNEL SALES
Moysklad is great for retail, wholesale and online trading. Manage any number of retail outlets and online stores.
QUICKLY CONNECT NEW POINTS
You can quickly and cost-effectively combine several geographically remote offices, stores, or warehouses in one system.
100% SECURITY OF YOUR DATA
Reliable data storage center
HOSTING
Our servers are located in reliable data centers in Moscow and St. Petersburg, which have several degrees of protection against emergencies.
ACCESS CONTROL SYSTEM
Your employees will only work with the information and functions of the system that you give them access to.
ADMINISTRATION
Our servers are serviced daily by professional system administrators.
THE DATA BELONGS TO YOU
You can always transfer all your data from the Moisklad service to Microsoft Excel, Access or any other database in a few minutes.
BACKUP COPYING
Data is automatically copied between servers in different cities. Replication occurs in real time.
DATA ENCRYPTION
All information transmitted by the Moisklad service is encrypted using A 256-bit GeoTrust SSL certificate. Data interception is not possible.
MANAGE YOUR BUSINESS WHEREVER IT'S CONVENIENT FOR YOU
Mobile apps for iOS and Android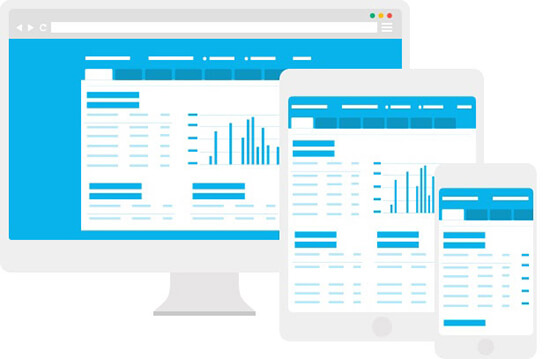 FEEDBACK FROM ENTREPRENEURS
What do industry leaders say about us
Our company is engaged in manufacturing, retail and wholesale trade. When choosing a product for automation, we tried many options. Stopped at Mesclada for three main reasons: price, Internet, understandable.
We are engaged in wholesale and retail trade in children's swimming products. To process orders, I immediately looked for something remotely located so that I could log in from any computer. Now it's easier for me to process documents and keep track of payments. Reliable and convenient. I like technical support very much.
We are wholesale and retail sales in Mesclada. I constantly watch the Profitability report and the summary screen with orders and sales. Our operations Director provides Analytics for each product on a monthly basis, plans purchases, and uploads documents to other companies.
Initially, we kept records in Excel. As soon as there were several orders a day, we realized that we needed a program. Two days of searching, and chose Moysklad. I liked the design, ease and that there is nothing superfluous. Back then, we couldn't afford an it specialist, but we did everything ourselves with my account!
Moysklad integrated with our it solution and is a retail store for the holiday season. Each of them is a customer of the store. Moysklad is also a source of data on cash receipts for the company and an interface for our CRM. This is an important part of our business!
With the help of the Moisklad service, 300 orders are shipped per day, and each warehouse employee assembles and packages approximately 60 orders per day. The maximum potential is 70-80 orders per day. Without my Account, it is lower-30-40 orders per day.
I didn't want to work in a complex trading program, mixing management and accounting. The task was to find a convenient service, even for those who had never encountered warehouse accounting before. So we chose Moysklad.
Our company is the official partner of the service Moysklad. By contacting us, we will implement the product in your business as efficiently as possible!